Forward and forward I go, never looking back. My limit no one knows, more of me do they lack. Like a river I do flow, and an eagle I fly. Now can you guess, what am I?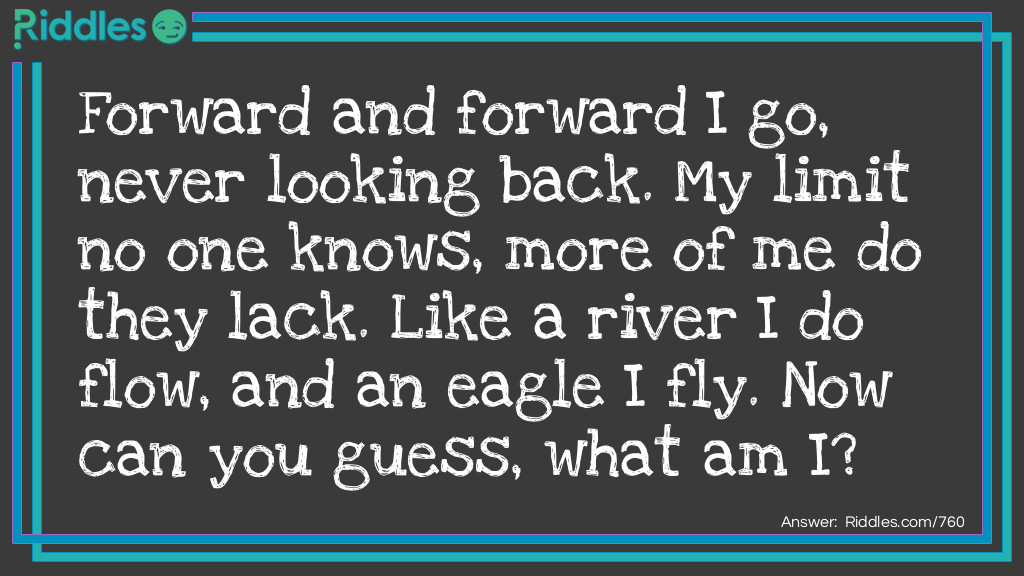 Answer: The milkman was the only male. The doctor and lawyer were females, so the cop knew that "John" was the milkman.
A cop was walking past a restaurant when he heard someone scream - "No John, not the gun!" He ran inside and and saw a doctor, a lawyer, a milkman, and a dead body on the floor. He promptly walked over to the milkman and arrested him. He didn't witness the shooting and there was no apparent evidence to prove who shot the person and no one told him who the killer was. How did the policeman instantly know it was the milkman?
I repeat only the last word you say. The more I repeat, the softer I got. I cannot be seen but can be heard. What am I?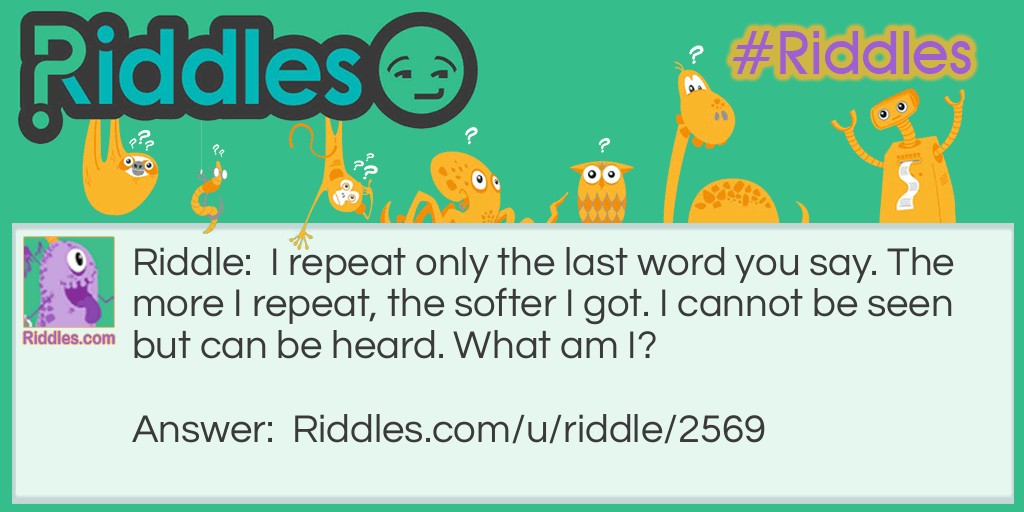 Every night, I'm told what to do. And every morning, I do what you tell me to do. But you still get mad at me and hit me. What am I?
I turn around once. What is out will not get in. I turn around again. What is in will not get out. What am I?
Answer: They wouldn't need to, the survivors are still alive!
If a train was on its way to Florida and it tipped over, where would they bury the survivors?
Answer: Brown/blue/green (i don't know how i would put it though so if you guessed your eye color you got it right :) )
You are a bus driver at a station. 10 get on the bus and no one gets off. You drive 10 miles to another station where 3 people get on and 1 gets off. You drive another 10 miles only to get 25 people on and 5 people go off. Next you drive 3 miles while 12 people exit the bus. You drive back to the place knowing that a couple more stops along the way untill the ride is done. At the 2nd to last station 5 people get on and 2 get off. And at the last station (5.5 miles) 25 people get on for no reason and 1 gets off. What is the bus drivers eye color?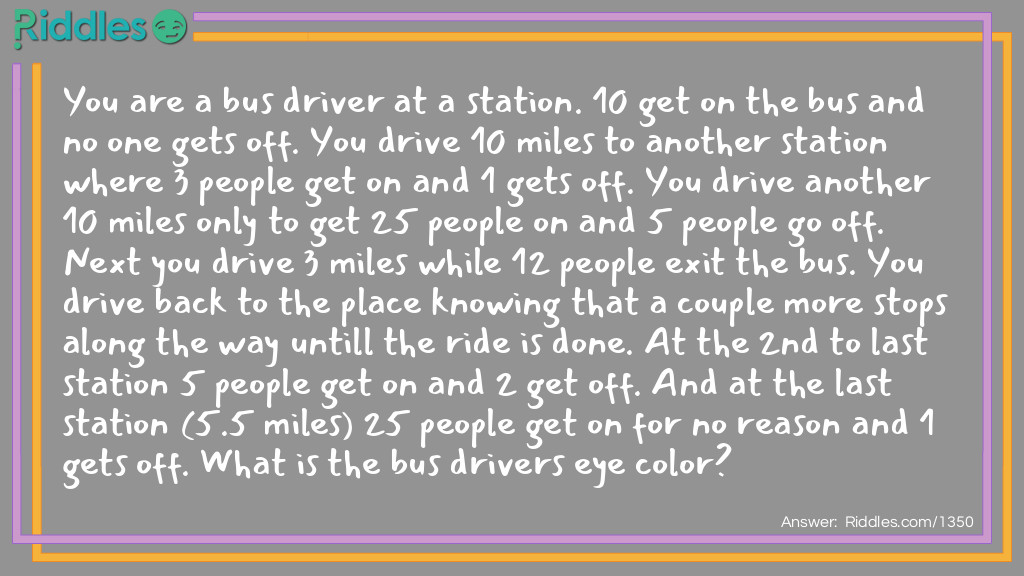 With pointed fangs it sits in wait, With piercing force its doles out fate, Over bloodless victims proclaiming its might, Eternally joining in a single bite. What am I?
Answer: The second door with the lions. Since they haven't eaten in 5 years they will have died.
There are three doors. In each door is a way to die. The first door has fire and lava. The second door has lions that haven't eaten in 5 years. In the third door, there is a 1,000-foot drop into alligators. Which door will you likely survive?
Answer: There are 11 letters in "THE ALPHABET." Did you say 26?
How many letters are in the alphabet?