My first is found on the ocean wave, In the spring, the pit, and the mine; My second below earth's surface you have, Where seldom the sun can shine. My whole your dinner-table must grace, And seldom fails to obtain a place. What am I?
Answer: 9 days to fill 1/2 and 8 days to fill 1/4 of the tank. If the creature fills the tank in 10 days and it doubles every day, on the ninth day it would fill 1/2 the tank. Thus on the 8th day it will fill 1/4 of tank.
There is a creature which could double its size every day. So, if the creature is put in a tank then it will fill the tank in 10 days. How many days would it take for the creature to fill 1/2 and 1/4 of the tank?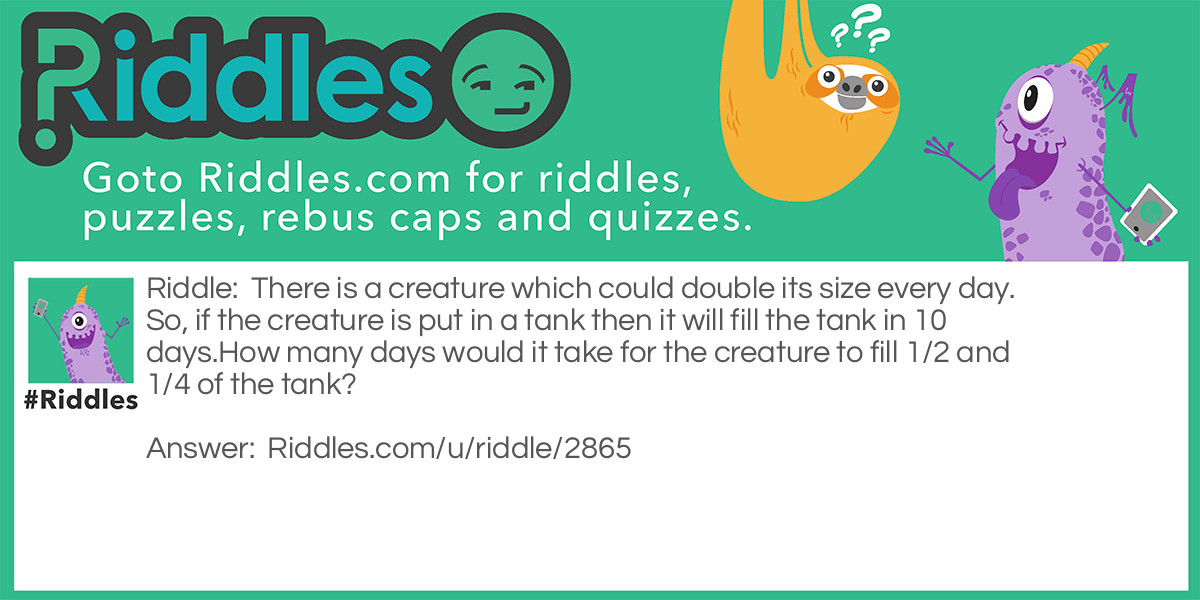 Long and slinky like a trout, never sings till its guts come out. What is it?
Answer: Because it pierces hearts.
Why is a bullet like a tender glance?
What animal probably likes doors?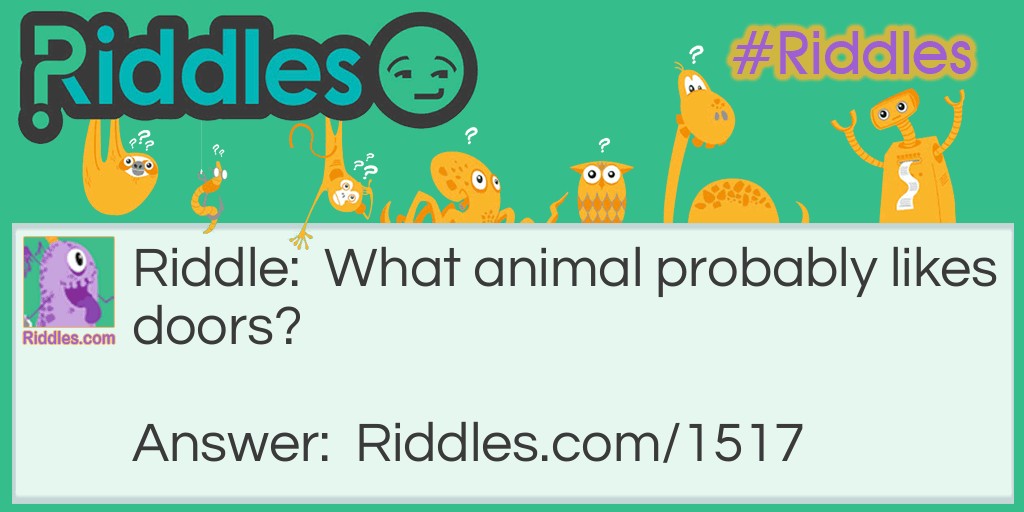 Answer: Prescription—proscription.
There is one word in the English language which is universally considered a preventive of harm; change a certain letter in it, and you make it an act of cruelty. What are the words?
Answer: Because it's a long time before they leave.
Why are trees in winter like troublesome visitors?
Of no use to one Yet absolute bliss to two. The small boy gets it for nothing. The young man has to lie for it. The old man has to buy it. The baby's right, The lover's privilege, The hypocrite's mask. To the young girl, faith; To the married woman, hope; To the old maid, charity. What am I?
Three-fourths of a cross, and a circle complete, An upright where two semicircles meet, A rectangle triangle standing on feet, Two semicircles, and a circle complete. What is it?
Half-way up the hill, I see thee at last. Lying beneath me with thy sounds and sights - A city in the twilight, dim and vast, With smoking roofs, soft bells, and gleaming lights. What is it?