Tool of thief, toy of queen. Always used to be unseen. Sign of joy, sign of sorrow. Giving all likeness borrowed. What am I?
Answer: I am a Butterfly.
A very pretty thing am I, fluttering in the pale-blue sky. Delicate, fragile on the wing, indeed I am a pretty thing. What am I?
I was carried into a dark room, and set on fire. I wept, and then my head was cut off. What am I?
A slender body, a tiny eye, no matter what happens, I never cry. What am I?
Answer: Your fingernails.
I can be long, or I can be short. I can be grown, and I can be bought. I can be painted, or left bare. I can be round, or square. What am I?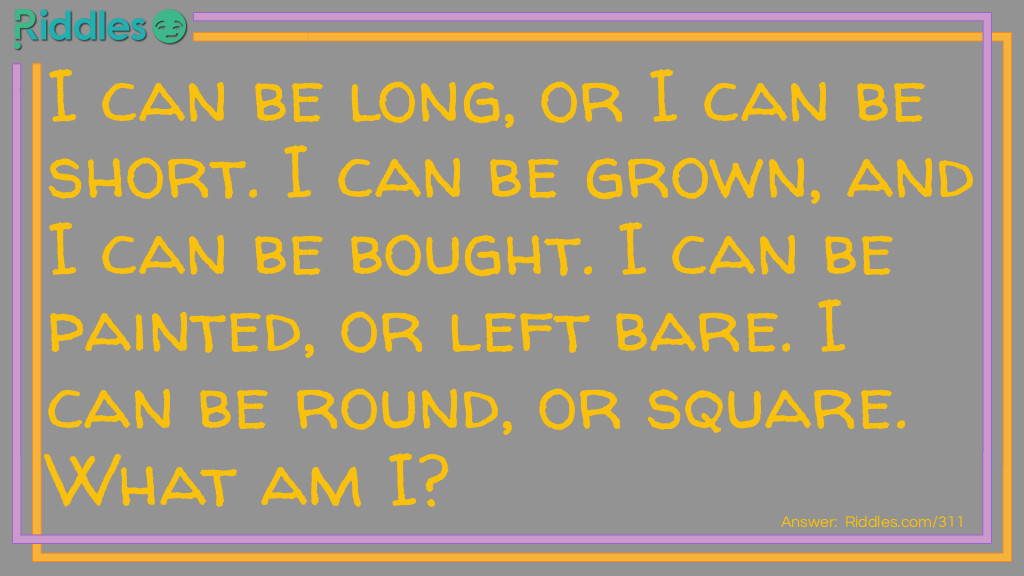 I am the beginning of sorrow and the end of sickness. You cannot express happiness without me, yet I am in the midst of crosses. I am always in risk, yet never in danger. You may find me in the sun, but I am never out of darkness. What am I?
A little pool with two layers of wall around it. One white and soft and the other dark and hard, amidst a light brown grassy lawn with an outline of a green grass. What am I?
I pass before the sun, yet make no shadow. What am I?
Answer: The blink of an eye.
I'm so fast you can't see me, though everyone else can see straight through me. I won't stop until the day you die. What am I?
I'm the part of the bird that's not in the sky. I can swim in the ocean and yet remain dry. What am I?