Answer: The word is "NOWHERE". When a space is placed between the 'w' and 'h', you get the words "NOW HERE".
What common English word will describe a person or thing as not being found in any place and yet with no changes other than a space between syllables, will correctly describe that person or thing as being actually present at this very moment?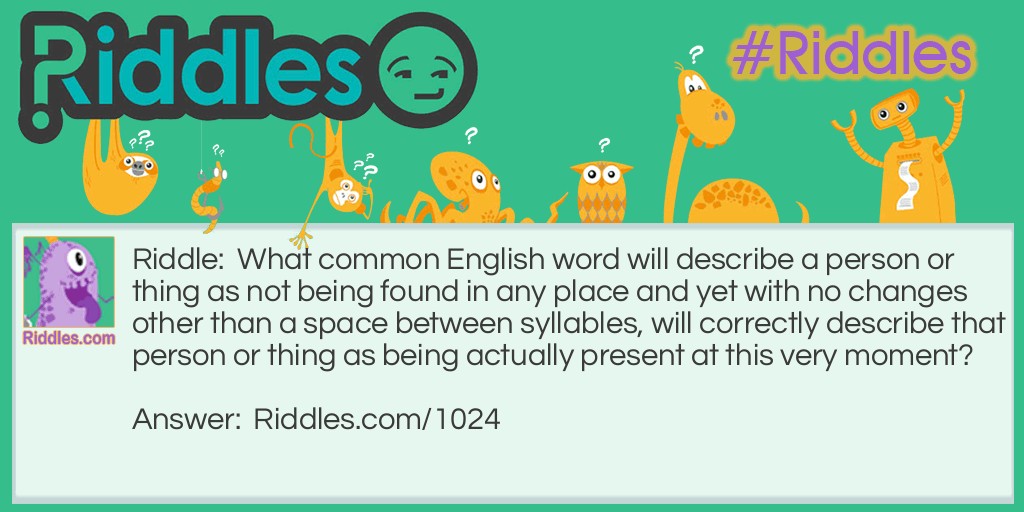 Answer: You turn on any two switches, leave them for a few minutes, and turn one switch off. You enter each room only once. you know that the lightbulb that is lit belongs to the switch that was left on, the bulb that is off, but hot, belongs to the switch you turned off, and the cold bulb belongs to the switch you never touched.
There are 3 light bulbs in three separate rooms. in front of you, there is a panel with 3 separate switches. They only turn on or off. You may look inside each room only once. How can you tell which bulb belongs to which switch?
Answer: It doesn't matter where the fifth stick is placed, since the tree won't fall in any direction. Being wood, it will float and rise to the surface.
Dynamite is a tool that can be used to cut down trees. Cutting a tree 18 inches in diameter requires five sticks of dynamite: one on the north, south, east and west sides of the tree, and the fifth stick on the side to which the tree should fall. During the construction of a dam, a tree 18 inches in diameter was completely covered by water. Since the treetop was fouling the boat's propellers, it had to be cut down. A diver went down and put a stick of dynamite on the four sides of the tree. Since the current is flowing south at 2 knots per hour, on which side of the tree would you instruct the diver to put the fifth stick of dynamite if you wanted the tree to fall north?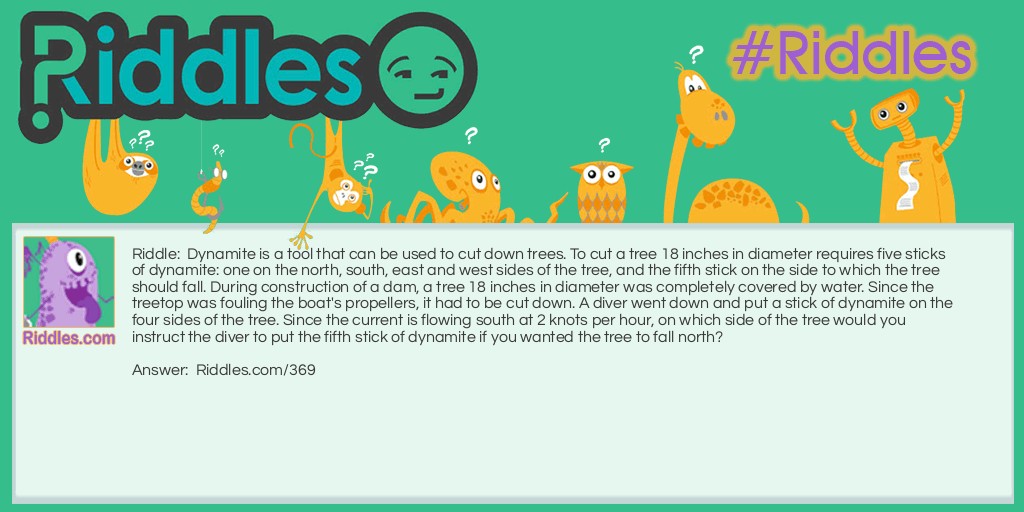 Answer: He uses the dates from the calendar to eat, the springs from the bed to drink and the keys from the piano to get out.
A man is in a room and the door is locked so he can't get out. He has with him a piano, a calendar, and a bed. How does he eat, drink, and get out?
Answer: The three veterans have made some innovative improvements to a basic Treadmill design, and are trying to patent these improvements in the hope of selling their newly created device. Of course, these veterans realize that anyone who uses their new product will be violating the early Continental Marine message and motto of the famous Gadsden flag which states, "Don't Tread on Me". Just as Forrest Gump was encouraged to "Run - Forrest - Run", we wish success to these three veterans with the words, "Ron - Terry - Ron".
Three American military veterans: Ron(Army), Terry(Army), and Ron(Marines) retired from their military careers and decided to go into business together. Using all of their engineering knowledge and expertise, the three veterans have revamped an idea for an old device, made many improvements to it, and are now trying to patent it under the name: The Ron - Terry - Ron device, or (R.T.R). They advertise it by saying, "The R.T.R is designed only for those who want to move forward in life, but never backward. It is guaranteed to get your heart pumping, your blood pressure rising, and your armpits sweating"(classy advertising by these veterans). The advertising continues: "The R.T.R. is for the person who tries to move ahead, but always ends up exactly where they started." The only problem with the R.T.R device is, to use one, you will have to ignore the Gadsden flag(i.e., the one with the coiled rattlesnake pictured on it) and its famous motto. Forrest Gump would be very proud of these veterans. Just exactly what is the Ron - Terry - Ron (R.T.R.) device, and why must the Gadsden flag motto be ignored by its users?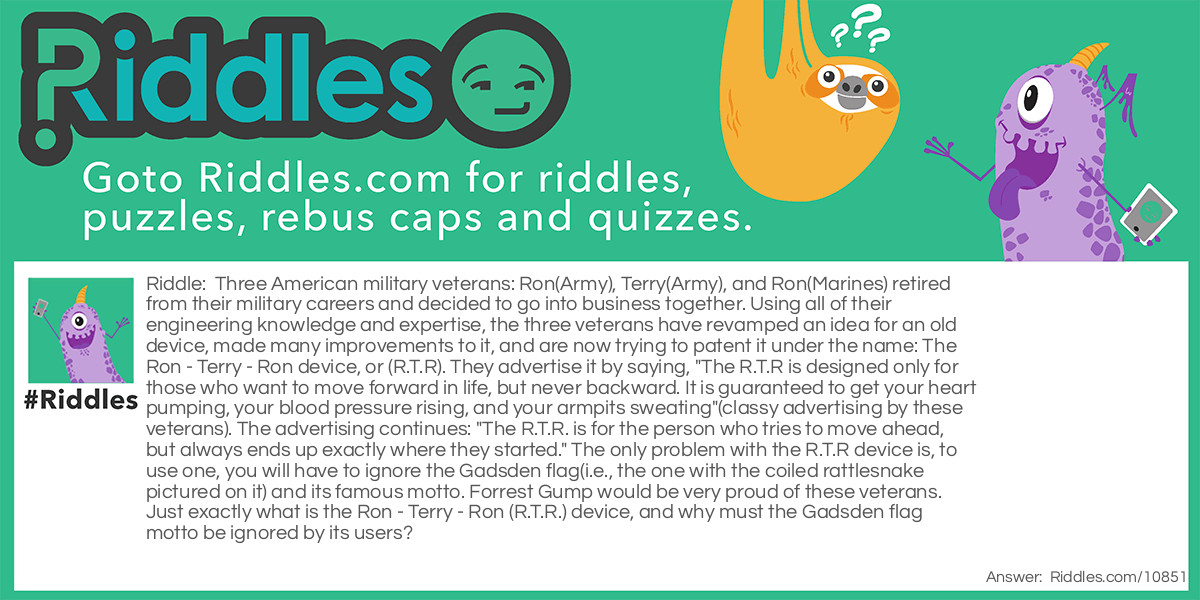 Answer: Since a person running for 10 minutes would cover more distance than that same person would walking for 10 minutes, he would use more energy running for 10 minutes.
Since a person uses about the same amount of energy walking 2 miles as they would run for 2 miles, would a person use more energy running for 10 minutes, walking for ten minutes, or the same amount of energy?
Answer: A riddler. ( or riddle )
With potent, flowery words speak I, Of something common, vulgar, dry; I weave webs of pedantic prose, In effort to befuddle those, Who think I while time away, In lofty things, above all-day The common kind that lingers where Monadic beings live and fare; Practical I may not be, But life, it seems, is full of me! What am I?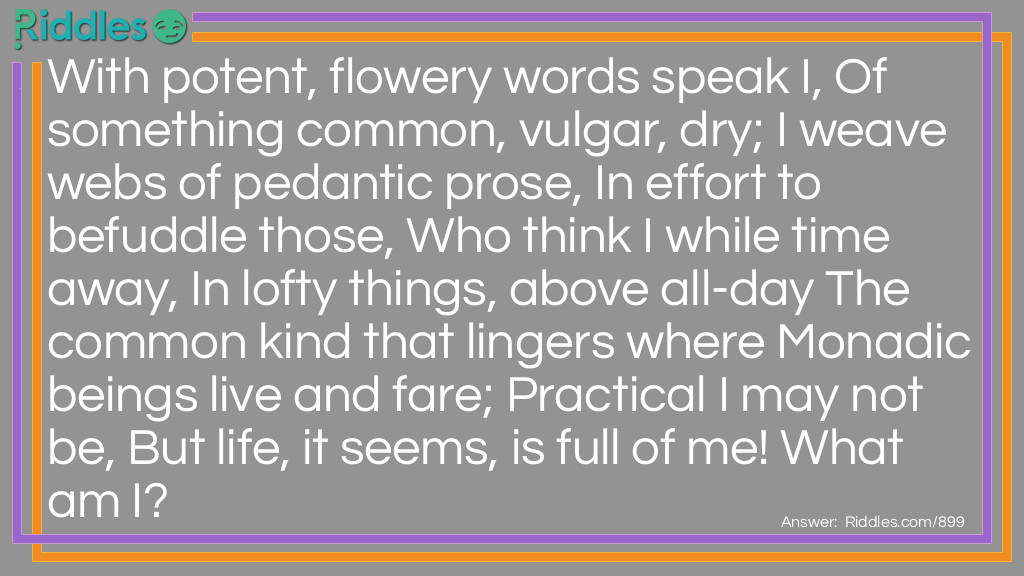 Answer: He is running to deliver a pardon, and the flickering lights indicate the convict to be pardoned has just been electrocuted.
A man runs along a hall with a piece of paper. When the lights flicker, he drops to his knees and begins to cry. Why?
Answer: Jordan takes two other hikers with him. Each hiker starts out with a four day supply of food and water. After the first day, the first hiker gives a one day supply to each Jordan and the second hiker. This leaves the first hiker with a one day supply to go home and Jordan and the second hiker now each have a four day supply again. After the second day, the second hiker gives Jordan a one day supply and keep a two day supply for himself so that he can get home. This gives Jordan a four day supply of food and water, and now he has enough to reach his destination.
Jordan is leaving from a small town in Wyoming and hiking through the wilderness to a post where he will spend the summer. The hike will take Jordan six days. One man can only carry enough food and water for four days. Jordan cannot take a mule or any other animal to haul his food and water, because there will be insufficient food and supplies for the animals at his destination. How can Jordan make it to his destination?
Answer: King Tut was born in 20 B.C. There were 120 years between the birth of King Eros and the death of King Tut, but since their ages amounted to only 100 years, there must have been 20 years when neither existed. This would be a period between the death of King Eros, 40 B.C., and the birth of King Tut, 20 B.C.
King Tut died 120 years after King Eros was born. Their combined age when they died was 100 years. King Eros died in the year 40 B.C. In what year was King Tut born?